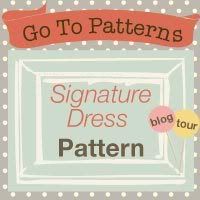 Andrea of The Train to Crazy has just released her first pattern and it is going on a blog tour--first stop moi! First of all. Let me tell you how pleased I was when I realized her blog tour buttons matched the dress I made. Not planned, but very pleased. I might have a minor obsession of color coordination, I think I get it from my dad.
Second of all, this has got to be the perfect little/medium/big girl summer dress. When I began printing out the pattern I thought, boy that printer is still a goin'!? So, I promised Divine I would make the dress for her if she would tape all the paper together for the pattern. She was on board and it was totally worth it!
Then I got out a couple of different fabrics and asked her which one she wanted and she said BOTH! Sure thing. We sat down together at the computer and decided exactly how she wanted it, the options are almost endless: Maxi length to tunic, long sleeve, short sleeve, cap sleeve, flutter sleeve, double sleeve, appliques, 4 types of pockets, hood....
This is what she decided on: Short dress, cap sleeves, kangaroo pocket in contrasting fabric. The only changes I made were: adding a band on the cap sleeve (because my feed dogs ate a hole in the fabric as I was hemming the sleeve, naughty dogs) and I did two rows of elastic and put them 1/2" lower. I made a size 9 for my almost 11-year-old because (most) my kids are on the slender side, so the lowered waistline probably won't be necessary for most.
It really is the perfect summer dress, especially for a bit older girls who are trying to dress modestly. Easy on, easy off, easy to care for, and so fun for the girls to "choose their own adventure!" I know the rest of the girls are going to have fun deciding what they want.
And Drummer is the perfect stylist entertainer for my little models!
There is plenty more on the "Go To Signature Dress" blog tour:
Want to get your own? Click on the button: